Bayern Munich midfielder Thiago Alcantara was forced off with an ankle injury in the 75th minute of the 2-1 win against Rodinghausen on Tuesday night.
The Bundesliga champions secured their spot in the third round of the DFB Cup thanks to early goals from Sandro Wagner and Thomas Muller, but there was a huge sting in the tail towards the end of the game.
According to German publication Spox, Thiago sustained an injury with fifteen minutes left on the clock and was substituted as a result, leaving the pitch after the final whistle with a heavily bandaged ankle.
SEE ALSO: Bayern Munich star orders his agent to negotiate Manchester United transfer in huge gift to Jose Mourinho
Bayern Munich enter race for £44million Manchester United target
Thiago reveals the main reason he left Barcelona to join Bayern Munich
As Spox reports, Bavarian head coach Niko Kovac admitted that the Spanish star was in a lot of pain, as he told reporters post-match: "He's in a lot of pain right now, but tomorrow we'll be back in the investigation.
"I hope it's not bad, but it does not look good, we're getting less and less."
Bayern have endured a mixed start to the 2018-19 campaign under the Croatian boss, who was installed as the club's manager during the summer, winning their first four games before embarking on a four-match winless run in all competitions.
Kovac has steadied the ship in recent weeks though, with tonight's victory marking their third domestic win in a row, which has eased the pressure on the young manager for the time being.
However, losing Thiago is a major blow for the team, given the fact he pulls the strings in midfield and club supporters will be hopeful that the injury is nothing too serious when he is evaluated in the coming days.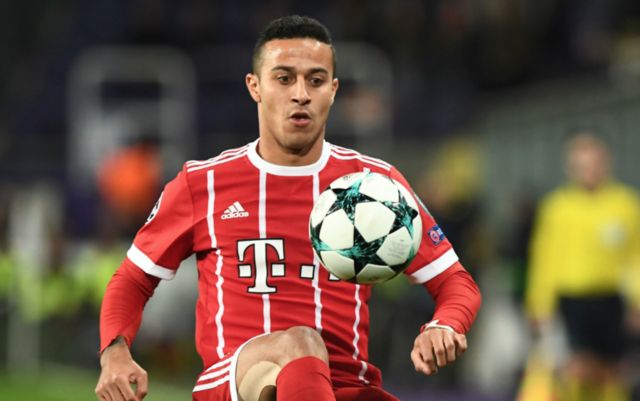 Next up for Bayern is a Bundesliga clash against Freiburg at the Allianz Arena on Saturday, which they need to win in order to keep in touch with Borussia Dortmund in the table, who currently sit two points ahead of them at the top.