Chelsea's social media game is really on point at the moment as it looks increasingly hard to argue they are taking frequent pops at old manager Jose Mourinho.
The Manchester United boss has wound up fans of his old club by pointing three fingers at them on a couple of his recent returns to Stamford Bridge with the Red Devils.
The Portuguese is of course making reference to the three titles he won with Chelsea, but he's no longer so popular with his old employers ever since taking over a rival and for his continued digs at previous Blues boss Antonio Conte last season and the season before that.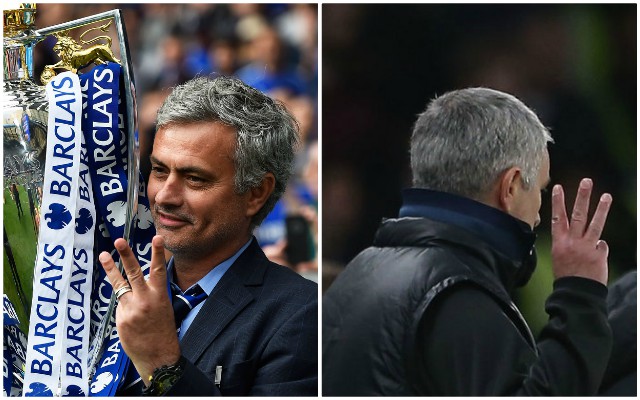 It now seems as though Chelsea are aiming deliberate subtle digs back at Mourinho by taking any opportunity possible to get players posing with three fingers held up for a variety of reasons.
Here are some recent social media posts that have caused a stir, with a number of fans picking up on it and enjoying the chance to wind up their former hero.
Three hours to go! ?#BURCHE pic.twitter.com/rpp2TOvTyc

— Chelsea FC (@ChelseaFC) October 28, 2018
Three hours to go.

? #CHECRY pic.twitter.com/CX3oOUe2iw

— Chelsea FC (@ChelseaFC) November 4, 2018
Ross Barkley is the first Englishman to score in three consecutive @PremierLeague games for the Blues since Frank Lampard, back in 2013! ? #BURCHE pic.twitter.com/5dcJarfh3S

— Chelsea FC (@ChelseaFC) October 28, 2018
Is it 3? out of 3? or what?!? ? #CFCvBATE #UEL #TheBlues ? pic.twitter.com/dDXdnIip8l

— Mateo Kova?i? (@Mateo_Kova23) October 26, 2018
Since Mourinho waved his three fingers at fans after the 2-2 draw ??????

And Chelsea just won by 3 Goals today. pic.twitter.com/Nx0B7WYyv0

— CHELSEA FC (@cy_mureithi) October 31, 2018
Love how the Chelsea account has been trolling Mourinho lately. Hilarious!

— Yemi Oscar (@Yemitefs) November 4, 2018
I LOVE the fact that Chelsea are still trolling Mourinho with the whole three titles thing! https://t.co/yRBEujnLdX

— Luke Brown (@Luke_B21) November 4, 2018
Chelsea trolling Mourinho is the beat https://t.co/TxG1AzKVzY

— Rich Homie Shaun ?? (@shaunafield) November 4, 2018
Pedro did they 3 sign. Mourinho would suffer till the end of this season.

— Bowale (@Son_of_a_O) November 4, 2018