Some Liverpool fans singled out midfielder Adam Lallana after his poor performance in the Reds' shock defeat to Serbian minnows Red Star Belgrade this evening.
England international Lallana has recently made his long-awaited return from injury for the Reds but some fans have called for Lallana to be 'sold' after the attacking midfielder has failed to prove himself as a worthy rotation option to Jurgen Klopp.
Liverpool went into halftime two goals down and despite looking better after the half time substitutions of Trent Alexander-Arnold and Daniel Sturridge for Roberto Firmino, the Reds still couldn't manage to find a breakthrough in the second half.
The biggest shock of the evening was that Red Star striker Milan Pavkov stunned Klopp's men by scoring a shock double in his first ever Champions League start.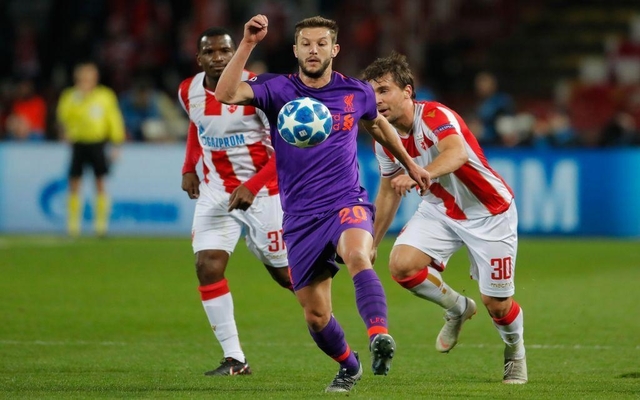 Lallana was eventually put out of his misery by being brought off for Divock Origi, the fact that even Origi seemed like a better option than the former Southampton star says it all about how poor Lallana's form is currently.
Check out reaction on Twitter from these Liverpool fans to Lallana's performance:
When Lallana starts, we're down to 10 men. It's as simple as that.

— – (@AnfieldRd96) November 6, 2018
We love klopp, but any manager who's serious about winning trophies wouldn't tolerate players like Lallana and matip around, let alone starting them in a CL game.

— Liverpool Family ? (@lfc_family) November 6, 2018
I'm so sick of people telling me Lallana offers something. He's fucking shit, but because he runs a lot he's top shelf. Being bullied by a the Serbian Burnley. This is an abysmal performance. Absolutely fucking embarrassing this. Insipid.

— Jez ?? (@JezKunt) November 6, 2018
Also sell Lallana at half-time. What a joke of a midfielder.

— • (@NDK8A) November 6, 2018
How has Lallana survived 70 minutes on the pitch? Should've been the one to be subbed off at half time.

— . (@VintageSalah) November 6, 2018
Adam Lallana, James Milner and Gini Wijnaldum won ZERO TACKLES in that first half. £90m on the likes of Fabinho and Naby Keita only to start this embarrassing lot in a crucial CL tie.

I've never been this angry in a long long time. Fix the fuck up.

— RF9 ?? (@SambaRole) November 6, 2018
One of Klopp's few flaws is the fact that he constantly opts for loyalty ahead of quality. It's the only reason that Lallana continues to get minutes when fit. No other top side in football would accept a player of Lallana's quality starting in a Champions League fixture.

— Dharma Bhagalia (@Kloppholic) November 6, 2018
Adam Lallana has to be the most pointless footballer. Ever. He's so fucking shit.

— Robin (@Robish13) November 6, 2018
Honestly, I'm not just blaming him, but when was the last time you saw us play well with Adam Lallana in the side? Can you even remember?

I mean, I can't think of many times we've been great this season alone, but his inclusion 100% makes us worse.

— Sir Colin Shuttlecock (@iamsircolin) November 6, 2018
Lallana will need to turn around his performances very soon or he risks being shown the exit door at Anfield.