Barcelona attacker Malcom became an instant fan favourite with Barcelona fans after his emotional celebration after scoring his first goal for the Catalan giants.
In the 83rd minute of the Champions League tie against Inter Milan capped off a wonderful team move by Barcelona to open the scoring, Malcom scored only 90 seconds after being brought onto the pitch.
Malcom has endured a tough start to life at the Nou Camp since joining from French side Bordeaux in the summer, Malcom scored in what was his only his fourth appearance in all competitions for the defending La Liga champions.
Given the struggles that Malcom has faced so far the 21-year-old Brazilian couldn't control his emotion once he scored and the youngster burst into tears of joy.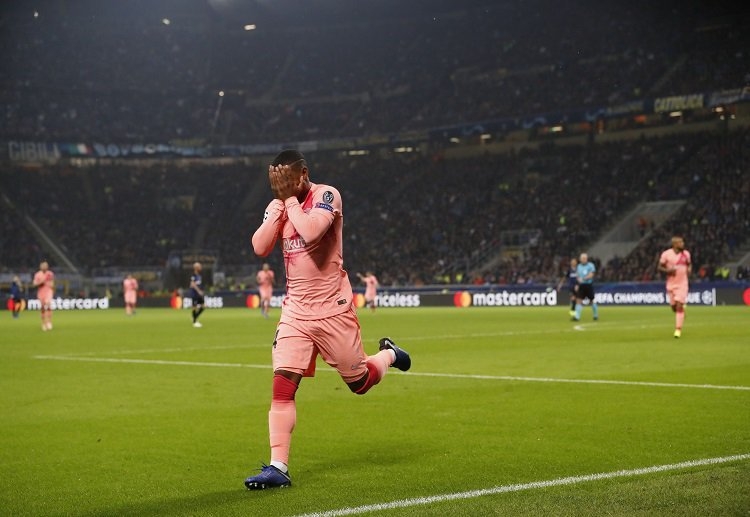 Hopefully this is the break that Malcom has been looking for and this could a turning point in his career at Barcelona so far.
If Malcom can continue to work hard enough to earn himself opportunities to impress on the pitch the youngster could reach his massive potential under Ernesto Valverde.
Check out these tweets from Barcelona fans who loved Malcolm's emotional celebration:
He's in tears. He deserves that goal. We love you Malcom

— FCB #10 (@CulePerSempre10) November 6, 2018
Tears in Malcom's eyes. It's been such a difficult time for him since he's come, he finally gets his opportunity in a difficult Champions League fixture, and he f*cking took it.

— J. (@Messilizer) November 6, 2018
MALCOM DARLING CRY ALL THE HAPPY TEARS YOU WANT YOU DESERVE IT

— Barça News and Negativity (@cynicule) November 6, 2018
? | #InterBarça | Malcom's Post Match Comments:

? Malcom: "For the first time in my life I have scored in the UCL. I want to celebrate with my family today." pic.twitter.com/ZuH31r0qGT

— BarcaTimes (@BarcaTimes) November 6, 2018
Malcom – "My dream is to write history. I will try to do great things. Barcelona has been my dream since I was a kid and I will not leave." pic.twitter.com/KCUu5BH5Sr

— Brazil Football ?? (@BrazilEdition) November 6, 2018
Malcom crying, I'm crying, the team absolutely crushes him with hugs, I LOVE THIS GAME

— Barcelista (@Barcelista) November 6, 2018
I'm soooooooooooooo happy for Malcom man!
He deserved it!
Tears in his and my eyes!
What a script!
Love that guy!
Impact substitution at it's best!

— Craman? (@cruijff_XIV) November 6, 2018
he's in tears, I'm in tears… we all in tears…. Malcom!!!!

— Victor (@EberoVic) November 6, 2018
UCL debut ?
1st Barcelona goal ?

What a day for Malcom ? pic.twitter.com/G4zrNp613x

— FOX Soccer (@FOXSoccer) November 6, 2018
Malcom: "This is not the end. This is the beginning of my career at Barcelona." pic.twitter.com/H4CyZ3V8TN

— Barça Universal (@BarcaUniversal) November 6, 2018
It was so nice that every Barça player went to congratulate Malcom ?? pic.twitter.com/9BWcQ3eITp

— Messi World (@MessiWorId) November 6, 2018
? [Rac1] | Malcom: "I fulfilled the dream of being a Barça player and I want to stay here and make history in this club. This dream has just started." pic.twitter.com/G1E3ldsXD8

— BarcaTimes (@BarcaTimes) November 7, 2018