Paris Saint Germain full-back Dani Alves has revealed that his main job at Barcelona was to get the ball into the feet of Lionel Messi. 
The Brazilian enjoyed a trophy-laden eight-year spell at the Camp Nou between 2008 and 2016, winning multiple La Liga and Champions League titles while fully establishing himself as one of the best defenders in the world.
The 35-year-old's penchant for marauding runs down the right-hand made him a fantastic extra attacking outlet for the Blaugrana and his superb technical ability made him the perfect foil for club talisman Messi.
Alves linked up with the Argentine superstar better than anyone and was the man to assist most of his 564 Barca goals to date, with quick passing interchanges and runs in behind which tore apart defences across La Liga and Europe.
The PSG veteran fondly recalled his bond with Messi on the pitch in an interview on Friday, offering a greater insight to his role which allowed the diminutive magician to thrive.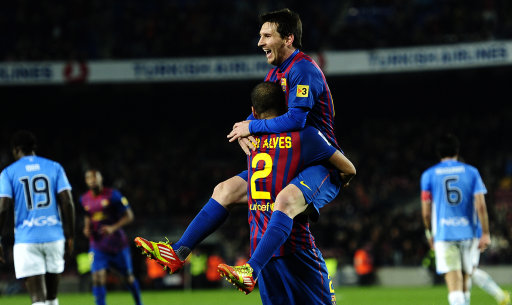 "I did all I could to serve him, to make sure he was happy and to make sure he had the ball all the time, which is what he loves most," Alves told Sky Sports.
"It's like a child when you give him his first present. You give him a football and he plays with it all day. I was in charge of making sure the ball was always at his feet."
The former Barcelona right-back went on to explain that the understanding between him and Messi was unique right from the start, as he added: "It was very strange because, from the time I arrived at Barcelona, from the first day, we had this very, very, very, very weird connection – I mean that in a positive way.
"I remember the first game we played together as if it was today. We were doing one-twos all the time, we understood each other with no more than a little look. We knew exactly where the other one was.
"It was surprising for me because I came from Sevilla, from a totally different style of football to Barcelona."
Alves was speaking to Sky Sports to promote a new film titled 'Take The Ball, Pass The Ball' – about Pep Guardiola's Barcelona squad from the years 2008 to 2012, which is widely considered to be one of the greatest teams in the history of the game.