Jose Mourinho made some questionable decisions against Crystal Palace this afternoon, ones that didn't necessarily go down too well with Paul Pogba or Man United fans.
The Red Devils drew 0-0 with Roy Hodgson's side at Old Trafford, a result that now means they are 14 points behind league leaders Man City with just 13 games played.
In the second half, Mourinho made the questionable call to take Pobga off, a decision that seems bizarre when you consider the fact that United were chasing a goal that would've ended up winning the match.
This decision didn't sit down too well with Pogba, who was seen with his head in his hands on United's bench following Mourinho's call to haul him off.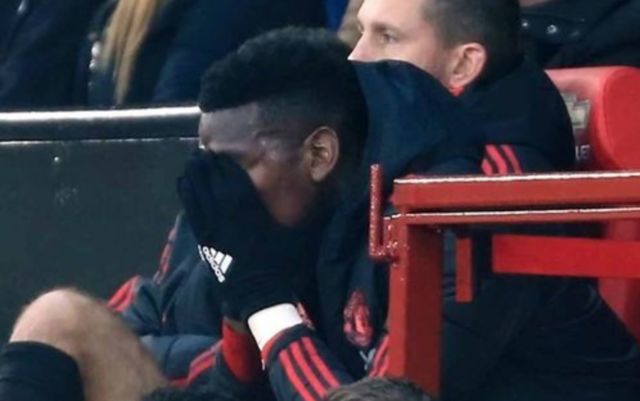 This reaction pretty much epitomises what all United fans were thinking, as they too let their frustrations at the decision known on Twitter.
Pogba coming off but Matic still on . Unbelievable

— José is FINISHED ?? (@Gibson3G) November 24, 2018
0-0 at Old Trafford against Palace. Pogba comes off, Matic stays on. Defence over attack and the past over the future. Someone remind Jose that this is Manchester United.? #MUFC

— Robin Lulham (@RobinLulham) November 24, 2018
Absolute shit show that game #MUFC #MUNPAL why take off lingard and pogba and mata when it should of been other players, tbh i think i would of preferred the loss "Oh we are gonna be in top4 by the end of december" oh fuck off you cunt

— Dan (@DanC_MUFC93) November 24, 2018
MATIC AND LUKAKU ON THE PITCH AND HE TOOK POGBA OFF…OH JUST FUCK OFF JOSE

— UNITED (@RedUnitedLife) November 24, 2018
Taking Pogba off is a sackable offence. #mufc

— Simply Utd (@SimplyUtd) November 24, 2018
Pogba off for Sanchez….? I don't understand how Matic still has a spot in the squad. Mou has made United so unwatchable… they don't even show the games in the states anymore #ManUtd

— Andrew Alvarez (@DrewA_) November 24, 2018
Can only blame Jose for tonight, taking off Pogba and Mata our best creaters while Matic was still on was a big mistake and it showed when we needed quality chances late on.

— Arindam Banerjee (@Arindam9029) November 24, 2018
When the Premier League action draws to a close, be sure to tune into tonight's mammoth La Liga clash between Atletico Madrid and Barcelona to see which side will draw first blood in the La Liga title race.
Click here to find out how you can watch the action LIVE on your mobile, online or through the comfort of your television.