An emotionally charged Anfield on the 25th anniversary of Hillsborough lingers long in the memory. For Liverpool fans, it is hard to joyfully reminisce about the dramatic  3-2 victory over Manchester City. A painful denouement saw the Reds ultimately come up short in the title race. Ultimately, the destination of the trophy had as much to do with a red card that day than any slip ups from Steven Gerrard a fortnight later.
Two minutes into a fraught six of stoppage time, Liverpool could no longer control their central nervous system let alone the ball. Henderson went studs up into Samir Nasri's shins.  The midfielder's desperate plea for clemency held no water with Mark Clattenburg who pulled out a straight red. He would play no further part in the Reds' surge for the line.
History tells us that Henderson's absence was keenly felt in the ensuing exchanges against Chelsea and during the mental May bank holiday collapse at Selhurst Park. His pressing and high energy roving thrusts were becoming commonplace.
How Liverpool's current skipper must have wished for a similar sense of belonging after his red card against Watford on Saturday. Instead, the snide comments of those that continue to belittle his role had the chance to repeat their concerns with extra relish. If Jurgen Klopp has succeeded into turning the majority of Anfield doubters into believers again, the jury is still out on the club captain according to the keyboard warriors. One of the subtler messages read: "Henderson will be suspended for the derby following his red card. Everton are set to appeal."
Truth to be told, Henderson has always had to fight like Tony Bellew to prove his worth. Having been given a chance at Sunderland by none other than Roy Keane back in 2008, the boy had to form a body of steel to survive a decade of hard knocks which continue to this day. Even on Wearside, there was an apathy towards one of their own.
Graeme Anderson, sports writer for the Sunderland Echo recalled. "There were those who admired his stamina, athleticism and passing range and could see that he had the potential to be a star, and others who just didn't see what he offered the team, who felt he was neither one thing nor the other or the sort of player who could run a match."
The notion that the 28-year-old is not a proper top-level footballer is perhaps one of the more derisory observations that permeate the social media air. Determination can overcome anything, so sticks and stones won't touch the man whose bones were affected as a 16-year-old by Osgood-Schlatter disease, a painful condition that affects the upper part of the shin. When monitoring the player, Sir Alex Ferguson once famously observed that Henderson: "runs from his knees, with a straight back. The modern footballer runs from his hips, and we thought this gait might cause him problems later in his career." Ouch.
The 20 million move to Liverpool in 2011 was never going to be easy and so it proved in a difficult first campaign where he was essentially played out of position. When King Kenny was usurped by the shiny new tenure of Brendan Rodgers, Henderson was offered a way out to Fulham as Liverpool attempted to secure Clint Dempsey. He vowed to fight for his place instead and became central to Rodgers' best days as Anfield boss.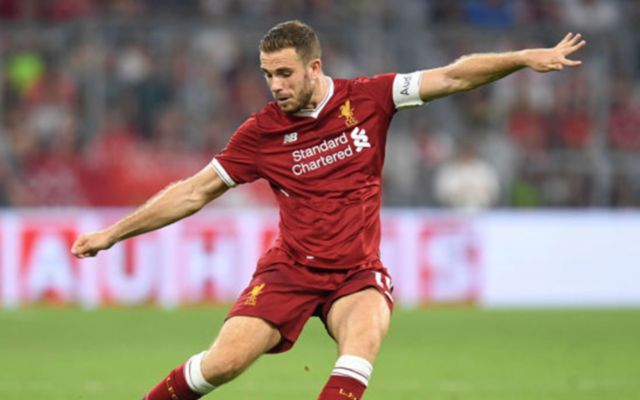 A week before that crucial sending-off against City, the Northern Irishman said "At the end of last season, he played as a false winger from the left, coming inside and got goals. He played his first season here wide on the right. He's played as a wing-back, wide in a midfield four.
In all the systems, what you get from him is a work-rate and a mentality and Jordan has got quality."
He excelled on the back of Suarez and Sturridge's goal-fest in 2013/14 playing in a more advanced role to Steve Gerrard's deep-lying quarterback. The year after he managed his best ever Premier league return of six goals, becoming vice-captain in prep for his ultimate succession of Gerrard the following year
Under Klopp, Henderson has had to make the transition to a holding role, which has naturally taken away the memories of his box to box breaks. However, his World Cup performances, helped by the bold new world of Gareth Southgate, certainly gave short shrift to the idea that the midfielder can only look sideways. In actual fact, new evidence is more favourable. In the Premier League this season, Henderson has completed 456 passes, 28% of which have been forward with 33% backwards. This compares favourably with other holding midfielders playing similar roles such as Eric Dier, Jorginho and Fernandinho
As quiet man Fabinho struggles to impose himself at the club and Naby Keita endures an equally tricky start with form and injury Henderson's worth to his manager and team mates has actually grown, despite the observation that the Milner-Wijnaldum-Hendo triumvirate is more workhorse than show pony.
What became increasingly clear during a busy summer is that the man has matured into a real leader on and off the pitch, especially in Europe. Any industrial language is kept to the grass (Loris Karius will know all about that after ignoring the skipper's penalty advice on Radja Nainggolan) while he continues to impress in front of the media. He refused to blame Karius immediately after the desolation of Kiev and ensured the players celebrated their CL semi-final win over Roma with a banner for stricken fan Sean Cox.  
In the cauldron of the Parc des Princes, Henderson will hope to repeat his excellent September performance against the French superstars to prevent his side needing an Olympiacos-like night to qualify for the knockout stages of the Champions League. In one cameo during the opening game of the group, he won the ball back three times in succession from Marquinhos twice and then Neymar. This is the player the naysayers fail to acknowledge.
"Sometimes I can be a little bit cautious in keeping the ball, playing a safe pass rather than an adventurous one. Maybe I need to take more risks going forward."  That was Jordan Henderson in November 2011. Some say nothing has changed seven years later.
As Liverpool enter a crucial week, Klopp's trusted lieutenant will ignore the negative to ensure that his latest red card doesn't lead to the same feeling of desolation as four years ago. To his manager, the captain is "the embodiment of what it means to be a Liverpool player". The German has his back as do his team mates. That is all that counts.