Chelsea defender Marcos Alonso has been heavily criticised by supporters on social media for his performance against the Cottagers.
The Blues are 1-0 up at Stamford Bridge thanks to a fourth-minute Pedro strike, but despite dominating the majority of the first period, the visitors will still harbour hopes of an upset.
Maurizio Sarri's men have enjoyed the lion share of possession and generally outplayed their London rivals in Sunday's Premier League clash so far, but they squandered three good chances to extend their lead.
Alonso has been guilty of losing the ball in advanced areas on several occasions, while his final balls into the box have also been of a low standard, much to the annoyance of Chelsea fans on Twitter who have acknowledged that he seems to be 'struggling'.
Marcos Alonso is really struggling today. Making life very difficult Hazard, not the opposition.

— Alex Goldberg (@AlexGoldberg_) December 2, 2018
The Blues are fourth in the league table at the moment and ten points behind leaders Manchester City, but a win in front of their home faithful will see them leapfrog Tottenham temporarily into third before they face off against Arsenal in today's north London derby.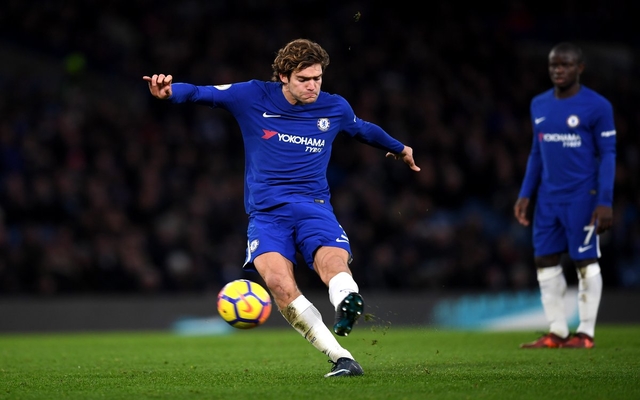 Sarri's men suffered a hugely disappointing defeat last weekend at the hands of Spurs, going down 3-1 at Wembley in a match which ultimately saw their Blues lose their unbeaten run across all competitions this term.
Chelsea will be strong favourites to go on and secure a valuable three points against Fulham in the second half, but Alonso will have to improve his distribution on the left-hand side in order to remain on the pitch and silence his doubters.
Check out some comments from fans lambasting Alonso below, via Twitter.
Come on Alonso, another poor cross

— NiiNiiFC-BlueLionsTV (@NiiNiiFC) December 2, 2018
I will never understand the Alonso love.
He has a clear pass to Jorginho, decides to dribble, plays a terrible pass to Azpi who stretches to keep it in but gives it away. After all that Alonso throws his hands up in the air and doesn't get back in position.

Huh?

— Ayden (@AddictedToCFC) December 2, 2018
Alonso…playing like crap today. Wake up mate! #CHEFUL

— Younes H-Hamou (@youneshh) December 2, 2018
Dear Maurizio Sarri,

Marcos Alonso off for Emerson please and for the future games too.

Kind Regards,

The Chelsea fans with brains. #CFC

— WorldWideChels (@WorldWideChels) December 2, 2018
Hazard really switched wings with Pedro just so he could get away from Alonso. That's the most hilarious shit ever loooool he's that bad

— Mod (@CFCMod_) December 2, 2018
Alonso is really pissing me off. Why does he keep moving into the box instead of overlapping Hazard? do your job ffs….

— Z?CH (@InsaneEden) December 2, 2018
Alonso always has the most space and put us the deadest crosses. What do people see in him to claim he's an elite fullback? Because he's Spanish? Because he scores goals? Because of his hair?

— Elias (@Everymonday6) December 2, 2018