Bayern Munich winger Arjen Robben has revealed he sat down with Sir Alex Ferguson back in 2004 to discuss the possibility of a switch to Old Trafford. 
The Dutchman is widely regarded as one of the finest natural wingers of his generation and has played for PSV Eindhoven, Chelsea, Real Madrid and Bayern during his illustrious 18-year career in football.
The 34-year-old remains a key figure for the Bavarians and has managed to win seven Bundesliga titles and the Champions League during his time at the Allianz Arena, however, he announced on Sunday that he will leave the club at the end of the current season – as per BBC Sport.
Robben is already looking back on his earlier years as an upcoming talent in the European game at PSV and during an interview with Four Four Two magazine, he has made the surprising admission that he wanted to join Manchester United instead of Chelsea 14 years ago.
"I had a very good conversation with him [Ferguson] over dinner in Manchester and we spoke about football and life," the ex-Madrid superstar told Four Four Two.
"I also went and had a good look around the training ground and everything was good, but after I went back to PSV nothing happened.
"There was no real contact and the deal didn't happen.
"PSV were also negotiating with Chelsea at that time, so maybe they offered PSV more money? I don't really know. I spoke to Chelsea and I liked their plans.
"We had one meeting and everything was done pretty quickly.
"Had Manchester United offered me a deal straight after I met them, I would have signed there, but it didn't happen and I've got no regrets."
Robben moved to Stamford Bridge in 2004 and went on to win two consecutive Premier League titles with the club, making 106 appearances in total while also contributing 19 goals.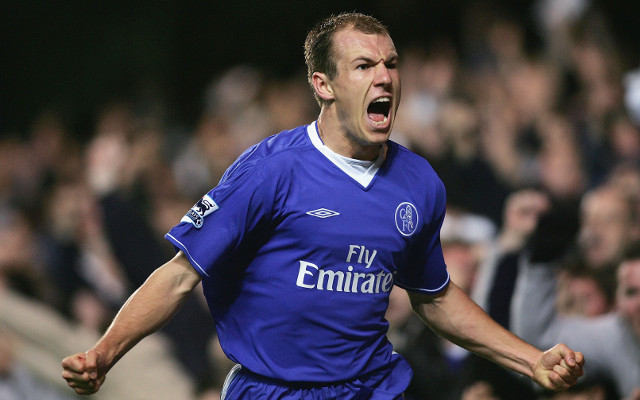 The former Netherlands international then secured a dream move to the Santiago Bernabeu, where he stayed for two years, helping Madrid to win the 2008 La Liga title.
His next stop was Bayern and for close to a decade he has torn defences to shreds on the domestic and European stage, with his trademark style of cutting in from the left-hand side still paying dividends to this day.
How current Manchester United boss Jose Mourinho must wish he had a player like him in his current squad at the Theatre of Dreams!