Cesc Fabregas has sent an interesting message to Chelsea wonderkid Callum Hudson-Odoi amid transfer speculation linking him with Bayern Munich.
The 18-year-old attacker has not managed a great deal of first-team football at Stamford Bridge as of yet, despite long looking one of the club's most promising academy products.
It was recently claimed by Bleacher Report that Hudson-Odoi is tempted to leave Chelsea as Bayern show an interest in his services, and Fabregas has singled the teenager out in a parting message.
The Spaniard played what looks highly likely to be his final game in a Chelsea shirt yesterday in the 2-0 win over Nottingham Forest.
Fabregas, 31, looked hugely emotional as he left the pitch for the last time for the Blues, as the Sun claim he's on his way to Monaco today to finalise a transfer to the Ligue 1 giants.
In his message to Hudson-Odoi, Fabregas praised his talent and told him he can achieve something special in his career.
'He has got everything to make it in world football,' the former Barcelona and Arsenal man told Chelsea's official site.
'I have told him that if he does not really make it at the very top I will be disappointed because he is one of these talents you can see can be fantastic. He can be world class, so he just needs to keep his feet on the ground, keep working hard.
'He is a humble boy, he really loves playing football and hopefully he can really make it very soon.'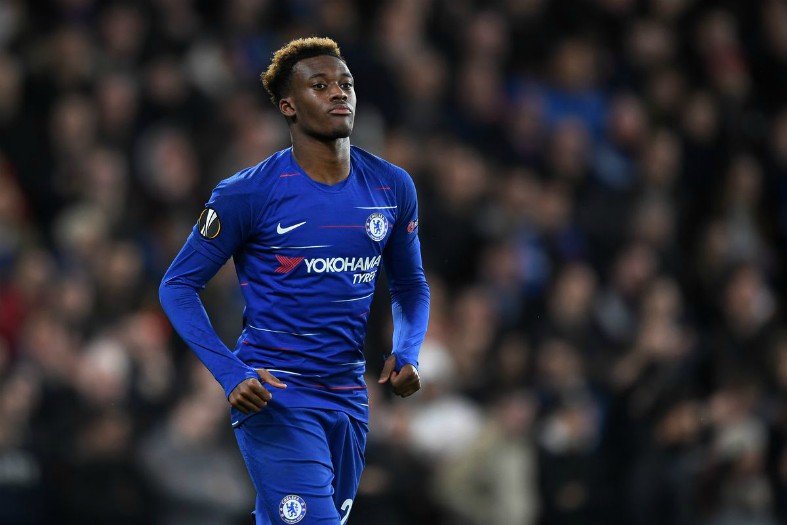 Make of that what you will – it could be a plea with the player to stay at Chelsea, or for the club to give him more chances, or it may be a subtle way of telling the youngster that he deserves a shot at making a career for himself, which could mean accepting a move to Bayern.
Chelsea fans dying to see more homegrown talent come through will hope these words resonate with manager Maurizio Sarri and give Hudson-Odoi more of a look-in in the first-team.