Arsenal boss Unai Emery has won more points after 24 matches than a number of his Premier League colleagues did at the start of their careers in England.
The Spanish head coach has divided opinion at the Emirates Stadium since succeeding Arsene Wenger in the hot seat last year, with the Gunners now facing the prospect of another trophyless season.
Emery's men are sixth in the Premier League and only have the Europa League left to play for in terms of silverware, after an inconsistent campaign which has arguably had more lows than highs.
Arsenal have looked strong going forward with Pierre-Emerick Aubameyang and Alexandre Lacazette leading the line, but defensively, many sides have been able to break them down far too easily.
Despite their troubles at the back, Emery's record at this stage of his tenure actually goes to prove that he is exceeding expectations at the club, with many experts and supporters stating last summer that Arsenal would probably have to endure a transitional period post-Wenger.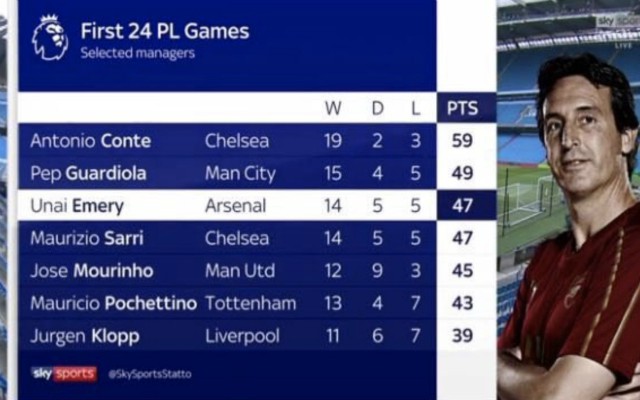 As the Sky Sports table above shows, Emery has won more points after 24 matches in the Premier League than Jose Mourinho, Mauricio Pochettino and Jurgen Klopp managed after the same amount of games in charge of Manchester United, Tottenham and Liverpool respectively.
Arsenal lost 3-1 at Manchester City on Sunday in their 25th game of the 2018-19 campaign, after Chelsea picked up three points to move clear in fourth place with a 5-0 against Huddersfield on Saturday, but prior to this weekend, Emery and Maurizio Sarri shared identical records.
Considering this is Emery's first foray into English football and the fact that he inherited a squad which was suffering from a real lack of confidence, the statistics show that he has held his own admirably.
Arsenal are still very much a work in progress, but they are at least starting to develop a new identity and if granted enough time to bring in new players and craft a team in his own image, Emery could still be very successful at the Emirates Stadium.
A trophy and Champions League qualification would be the best way to silence his critics, though, with a huge run of fixtures on the horizon for the club over the next month.