Manchester United fans have been hugely impressed by the performance of Jadon Sancho for Borussia Dortmund against Tottenham this evening.
The England international has been a big hit since making the surprise move to Germany at a young age, becoming a regular in their first-team and attracting talk of a transfer back to the Premier League.
A recent report from the Metro claimed United were considering a move for Sancho, who they claim is rated at around £90million by the Bundesliga giants.
It remains to be seen if the 18-year-old will be looking to return to England any time soon, but there's no doubt he'd be a fine purchase for Man Utd as an upgrade on Alexis Sanchez.
With his pace, skill and eye for goal, Sancho seems a typical United winger and one who could be a great long-term signing for the club.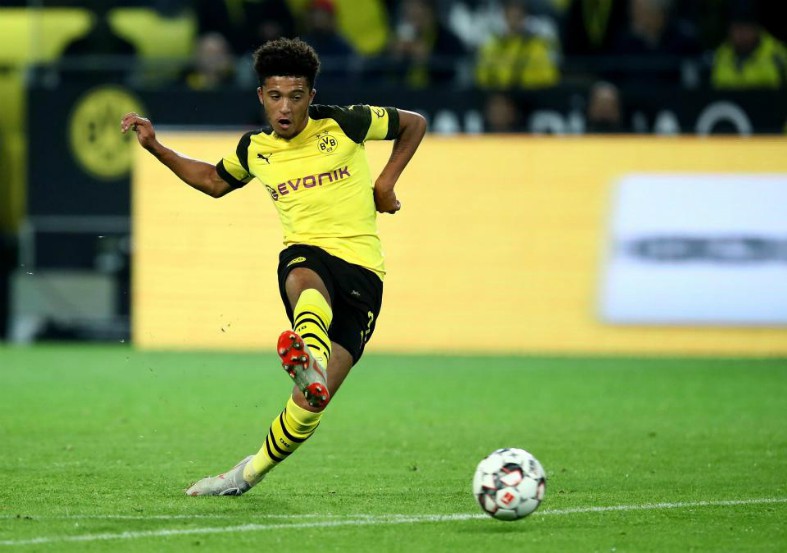 He's back in London this evening taking on Spurs in the Champions League, and though it's 0-0 at half time, he's been a bright spark in an otherwise cagey affair.
These United fans have been hugely impressed by the player recently linked with their club…
Sancho has been one of the best players on the pitch. Definitely going to attract attention from Europe's elite. I'd like a prospect like that on the right at United.

— Dale O'Donnell (@ODonnellDale) February 13, 2019
@rantsnbants Talk about Sancho – we need a player like him at Utd. The kid is mad talented. #RantsRedTalk

— Lee (@LeeGrayz) February 13, 2019
Jadon Sancho in a Man Utd shirt would do very nice in the summer please @ManUtd. Great talent.

— Ashley Murrell (@ashmurrell) February 13, 2019
Sancho would be perfect for that Utd right wing….

— Jay Mac (@TheJayMac_) February 13, 2019
????? We've had Agent P.

? Now, we need Agent Angel.

? Try and convince Jadon Sancho to join Manchester United and become our number 7 for the next 12 years.. @agomes_47! #MUFC pic.twitter.com/OyIC30FxpE

— Reppin' Utd? (@ReppinUnited) February 13, 2019
Utd need to spend whatever it takes to get Jadon Sancho ??

— Frederick Jon (@FWilson10) February 13, 2019
Wonder if Utd will try and sign Sancho? #mufc

— James Ryddel (@kick_in_grass) February 13, 2019
Sancho is on another level ? United should happily pay £100M for him. Only 18 and an absolute quality player for his

— MUFC News (@utd_newz) February 13, 2019
Yeah Sancho is the man for that RW. Great technical ability.

— AH (@UtdFinished) February 13, 2019
We need Sancho @ManUtd. Pay what ever Dortmund wants for him.

— Ben Miller (@UtdBen22) February 13, 2019