It's doubtful that anyone saw it coming, but after Roma began to drag their heels over signing Arsenal's Granit Xhaka, and their offer didn't meet the Gunners valuation of the player in any event, the north Londoners are preparing to offer the midfielder a new deal.
A divisive figure for Arsenal fans at times, there's still not too much doubt that the Swiss is a solid midfielder that Mikel Arteta's side are stronger with than without.
The Athletic acknowledge that Arsenal were open to a sale, however, they were never going to be held to ransom.
With Xhaka's stock rising after a solid Euro 2020 too, retaining his services can only be seen as a positive move.
MORE: Liverpool celebrate double return
It's not clear at this stage how long any deal may be for, but given that Xhaka is 28 years of age, he should at least get the chance to see out his peak years at the Emirates Stadium.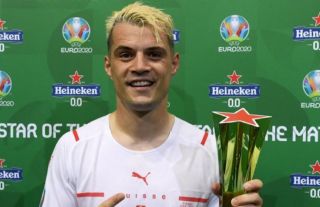 Arteta will almost certainly be delighted that he won't have to look elsewhere for a replacement and then keep everything crossed that any new signing can bed down with ease.
The quicker Xhaka signs on the dotted line, the better, and with only two weeks left until the start of the new season, the news couldn't have been better timed.