Manchester United suffered a humiliating 5-0 defeat to Liverpool, as a Mohamed Salah hat-trick helped condemn them to their worst defeat against Liverpool for nearly 100 years.
But let's take a look at how the players fared, and see if anyone deserves any sort of credit for the shambles that occurred on Sunday…
David de Gea (6) David de Gea could not really be blamed for any of the goals that happened on Sunday, he didn't have much of a chance with many of them.
Maybe he should have done better to close down Naby Keita's angle for the opener, but otherwise an afternoon where he kept the scoreline down with some good saves to deny Salah at one time in the first half and Trent Alexander-Arnold in the second.
Aaron Wan-Bissaka (3) It is impossible to justify a defender in this team getting a decent rating, and as such Wan-Bissaka starts off with a measly three. Needlessly presses the ball for the opener, pulling the entire defence out of position and thereafter while he had a quieter day of the two full-backs defensively, he also offered nothing going forward.
Being signed in 2019 as one of Ole Gunnar Solskjaer's first signings, he needs to prove he has the end product required of a top full-back in the modern game, or it will be time for United to find a better alternative.
Victor Lindelof (4) Not individually at fault for anything and was the better of the two CBs for United, but still guilty of falling into the traps Liverpool set which pulled United apart. Offered nothing to make Liverpool concerned either.
A bad day, even though he was relatively out of the spotlight
Harry Maguire (-10) Whether or not it is possible to give a minus rating to a player is irrelevant, because Maguire's performance deserves to break the rule.
Sloppy mistake between him and Shaw for Liverpool's second summarised an afternoon in which he had probably his worst ever United performance, other than last week at Leicester City. Poor reading the game, poor on the ball and inadequate desire to defend all meant United's Captain had a disaster.
Luke Shaw (-10) Whatever can be said about Maguire can be said about Shaw. Played Naby Keita and Salah onside for Liverpool opener, sloppy error for the second goal and no desire to get back in and cover for the deflection of the third. Also non-existent going forward.
Both Maguire and Shaw are playing like players who belong to relegation fodder, and not players who were getting shouts of being world-class from their performances at EURO 2020.
Scott McTominay (3) Apparently he was playing defensive midfield. Well, it was a great illusion if he was because he was non-existent in the midfield.
No tracking of runners for any of the goals, extremely poor on the ball and failed to offer the midfield muscle needed to win the game. A poor day all round for him.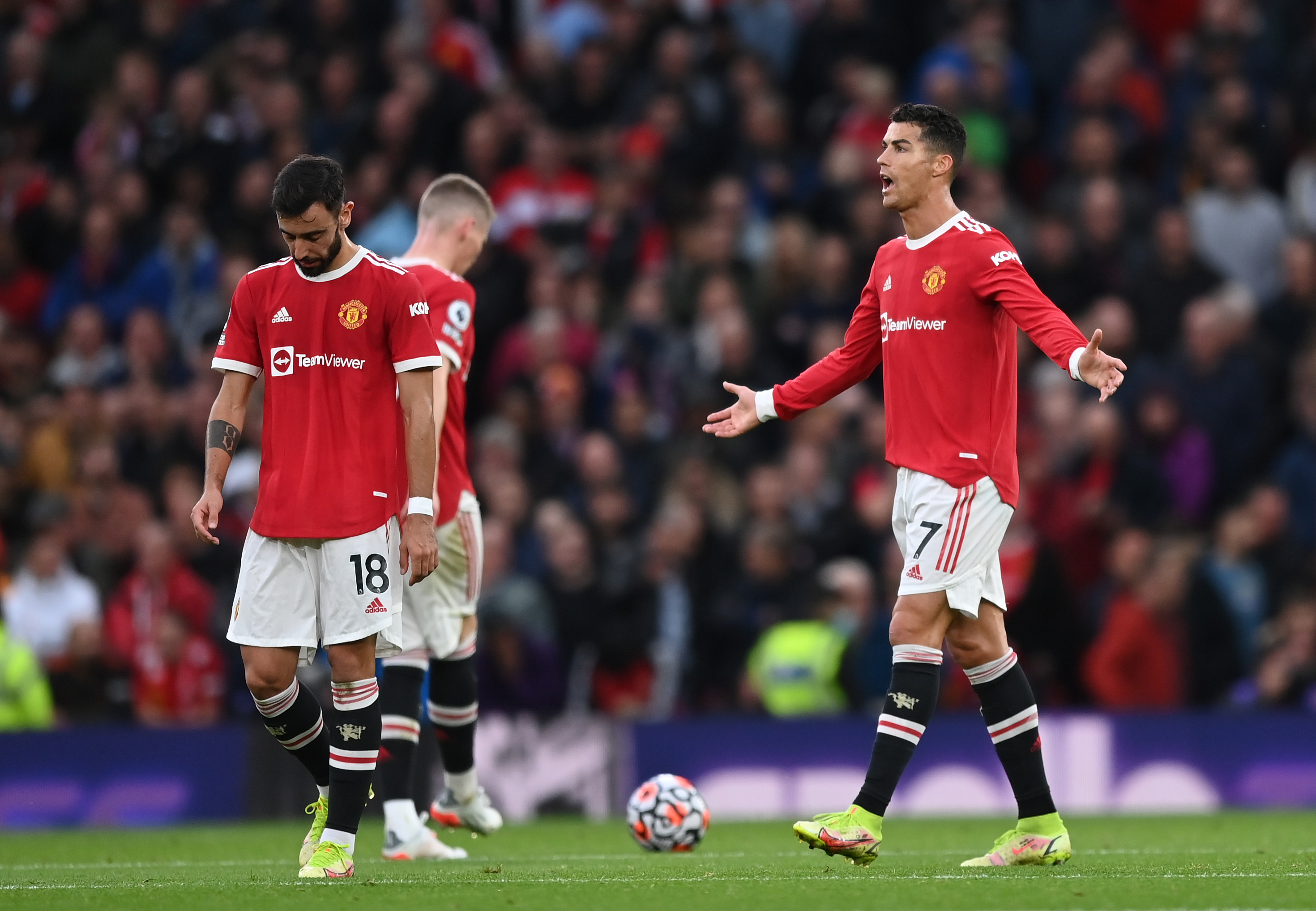 Fred (5) Fred normally bears a lot of the criticism when United are poor defensively, and rightly so as his shortcomings do normally bring the team down.
But he could not be blamed individually for any of the goals conceded yesterday. Like McTominay he failed to track runner, but unlike McTominay he was much better at reading the game and was at least competent on the ball. But still not a good performance by any stretch of the imagination.
Mason Greenwood (2) A poor day for the 20-year-old. On this occasion, he could not mask over an otherwise poor performance with a goal like he did against Leicester City.
Played in Fernandes for a glorious chance for an opener inside three minutes, but faded apart from a searching shot that was well saved by Alisson later in the half. Rightly subbed at half-time
Bruno Fernandes (3) Another performance against a big opponent in the Premier League where Fernandes fails to perform. Albeit it wasn't exclusively him, and him playing up front in a 4-2-4 system isn't working for him either.
Played some nice passes but should have scored early on when given a glorious opportunity to do so. The game unravelled quickly from there.
Marcus Rashford (6) One of the better performers and one of the few who seemed to understand the magnitude of the occasion.
Consistently giving trouble to Alexander-Arnold and the Liverpool right, Rashford found himself as the only player often in trying to get the ball in the back of the net. With this being exemplified when he beat Alexander-Arnold with some nice skill but had no one in the box for a cutback opportunity that would have surely resulted in a tap in.
Cristiano Ronaldo (5) Another below-par performance but this time nowhere near to blame. United pressing would not have made a difference to the result on Sunday. Scored a nice goal in the second half but was ruled to be offside.
Kept trying to get attacks and ball movement going. Dropped deep when needed and drifted wide at times as well. Offered more to the team but the team was not up to anywhere close to the standard needed.
Subs: Paul Pogba -5, Cavani 6, Dalot 2