Here we go again it seems.
The coronavirus pandemic never truly went away, though thanks to the Omicron variant it appears to have come back with a vengeance.
Cases are doubling virtually by the day, and it's likely that more and more football matches will start to be postponed just as we are coming towards the busy festive period.
Whatever everyone's personal opinion on the pandemic, it's abundantly clear that health comes first and should always take precedence over everything else.
Strangely, that doesn't appear to apply to the English Premier League. Only on Thursday afternoon was the Manchester United v Brighton game called off, despite the Red Devils having multiple positive cases at the club.
Indeed, according to a tweet from Charlotte Duncker of Goal, United had just nine players available for their fixture against Brentford before that game was postponed, and just seven available for the weekend fixture against Brighton and Hove Albion after the most recent round of testing.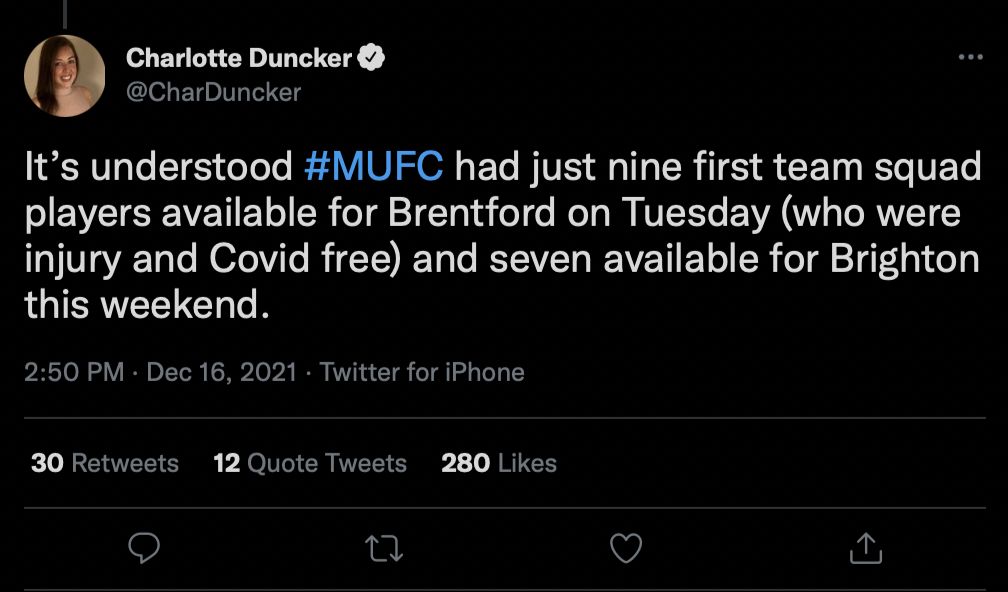 With the virus ripping through other clubs like wildfire, Tottenham Hotspur seeming to be the other Premier League club most affected, the sensible thing to do would be to cancel any fixtures again until further notice.
There can certainly be no justification for having upwards of 40,000 supports inside grounds without masks on at this point, and yet, the silence from the Premier League is deafening.
It's almost as if entertainment is valued at all costs, but lining the pockets of stakeholders should come a very distant second to the health of those who make the brand what it is on a weekly basis.