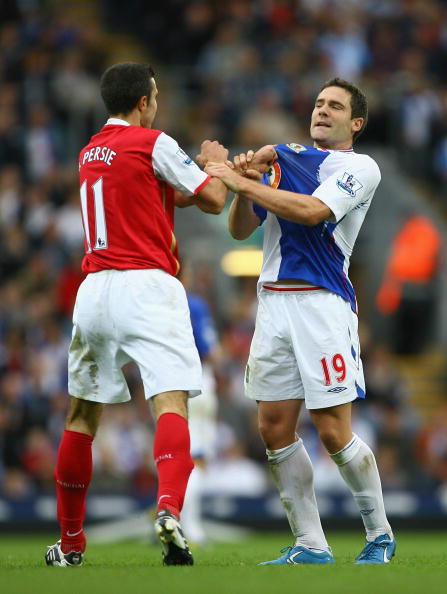 Blackburn Rovers midfielder Robbie "The Saint" Savage, has stoked up the Blackburn-Arsenal malarkey by claiming that Arsenal give as good as they get and that Robin Van Persie should stop moaning and realise that it is a man's game. Not content with this Savage dropped the old classic about London clubs getting special treatment and then said everyone should leave "little old Blackburn" alone:
"Wenger is a great manager and Van Persie is a great player but they give as good as they get….Van Persie did a piece in the paper slaughtering us, which is wrong. It's a man's game. It's physical. You're going to get stuck in and make tackles. And they do that, so it's very hypocritical of them."
Savage continued his critique of Van Persie's literary style by saying:
"It gets on our nerves. We saw Van Persie's piece in the paper the other day and we didn't like it. Arsenal give as good as they get. Van Persie's tackle on Ryan [Nelsen] when we played them was the worst in the entire game. But because they're a London club people only want to say nice things about them. And because we're little old Blackburn, people like to have a go at us, which isn't fair."
There is little disputing that Arsenal (like most teams) occasionally dabble in a spot of on pitch violence, but for Savage to call his own team "little old Blackburn" is a bit much isn't it?