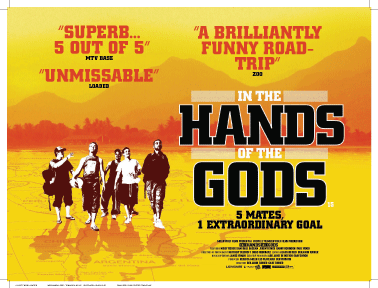 Following a hugely successful launch in Cannes, Lionsgate UK will release the exciting and thought-provoking In The Hands Of The Gods on September 14th, 2007. CaughtOffside was invited to a special preview so check out what Mr. C and Dan thought about the newest footy flick (in true COS form, they completely disagreed). Check out the trailer and other cool stuff here.
In The Hands of The Gods is the true story of five young British freestyle footballers' journey across the Americas to Argentina in the hope of meeting their hero, Diego Maradona. This coming-of-age road movie tells the story of a group of young men in pursuit of a lifelong dream.
And ahead of the film's opening this Friday, we've been given three ITHoTG t-shirts (pictured below) and three ITHoTG footballs to give away. All you have to do is answer one simple question:
– Was Maradona's "Hand of God" goal really a handball or simply sour grapes?
RULES: Only residents of the UK are eligible. You must either be registered with COS or leave us a valid email address in order to win, as we must be able to contact you. The 6 winners will be chosen at random and given the option of which prize they want in the order they were selected.
If you aren't a fat bastard, the shirt will look like this…