The public reaction – especially among many football fans – to Ched Evans being found not guilty of rape at his retrial has been largely toxic.
Fuelled by a cocktail of hate and stupidity, people have flooded social media with opinions such as this one from Huddersfield Town midfielder Jack Payne, who has since deleted his Tweet.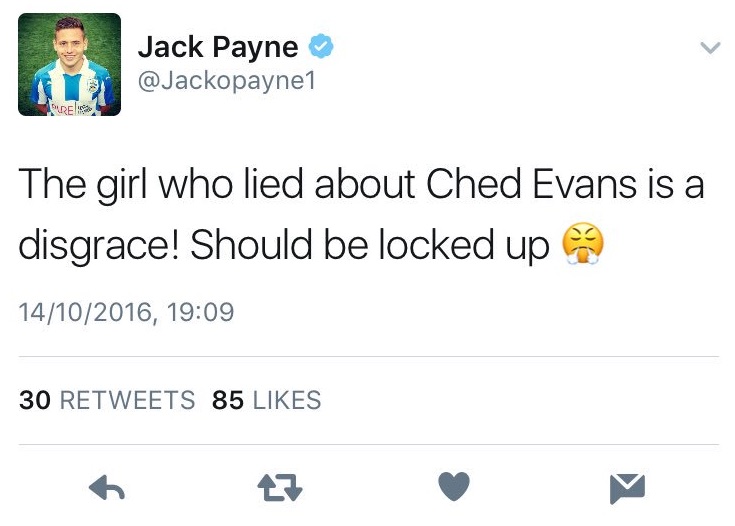 Payne, 21, doesn't seem to understand the law, let alone the details of this ugly case.
This young footballer is not alone in his view, but that does not make it any less idiotic.
Evans – who spent two and a half years in prison for the crime he would later be cleared of committing – being found not guilty does not mean the alleged victim lied.
It simply means that the jury did not believe Evans' guilt could be proven beyond reasonable doubt.
Evans lost a significant chunk of his career because of this case and of course he has suffered as a result.
But perhaps not as much as the woman he had sex with on May 30, 2011.
Since that night – during which Evans admitted he lied to get a key to her room, did not speak to her before, during or after he penetrated her and then left via the fire escape – she has been harassed and tormented.
She has had her sexual preferences discussed by her former boyfriends in court and is now being vilified as the 'disgraceful' liar who robbed a poor young footballer of his dream career.
Jack Payne and the many idiots like him seem to think they are standing up for victims, be they the wrongly accused or those scared to speak out.
A young woman – whose name we have hidden for her own sake – posted this comment on Facebook yesterday.

Sadly, it is comments like hers that could make it harder for "real rape victims" to come forward.
Tragically, women who have been raped – especially by someone in the public eye and with a fanbase – must now be petrified by the precedent set in this case. And I am not talking about the jury's verdict.
Victims will likely now fear vilification by the ignorant masses should their prosecution team fail to convict their alleged attackers, which can be incredibly difficult.
Back to Jack Payne. Huddersfield Town must surely take disciplinary action against him, as demanded by many angry Twitterers.
Just seen what Jack Payne tweeted about Ched Evans. I hope the club at least fine him. I'd sanction a harsher punishment than that #htafc

— Thrice Champions (@HTAFCPodcast) October 15, 2016
@Helentinho @Jackopayne1 he's a professional footballer, an absolute disgrace to htfc, the club should be appalled

— Bobby Wagner (@laz_papa) October 14, 2016
@Jackopayne1 delete your tweet you are an embarrassment to your club @htafcdotcom

— Bobby Wagner (@laz_papa) October 14, 2016
@Jackopayne1 @DOPreston I tell you what's a disgrace, Jack. How a rich defence team raked over her sexual past.

— Gary Rae (@gary_rae) October 14, 2016
The club are yet to comment.