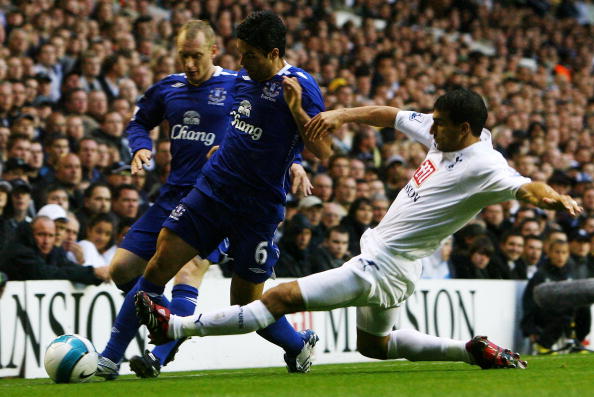 Edward hails Everton's consistency and faith in the Moyester (our nickname, not his).
IKEA is a strange place, some furniture is cheap and other items are extortionate; it is often very hard to tell which is which. As husbands sleepwalk through this male tundra, cajoled by eager wives, hopping around, picking up purchases like a bird building a nest. Whilst I was trudging through my Swedish hell, my blue boys were winning at the Lane, a place that before last season was utterly barren to Everton; we had failed to win there for 21 years.
As I was held up in IKEA I instructed my dad and sister to text me with any updates. It wasn't long before my sister informed me that my dad had switched off his mobile for the duration of the game to dodge any Spurs gloating; such is the level of trepidation that an away game in London inspires. As time progressed I feverishly whipped out my mobile like a sharp-shooter, but it blankly stared back at me. No messages. My family usually watches Everton play from behind the back of the sofa, in a refuge at the bottom of the garden where goals are communicated through yelps from the kitchen, or at a game, where we attempt to throttle the tension out of the match day programme, teeth chattering in tandem with sweaty palms. Because of this when I didn't receive a text I feared the worst. Had Spurs beaten us?
They'd probably run us ragged, as I searched for a comfy sofa bed with my wife, Berbatov and Keane were probably running towards the away fans, hands cupped to their ears and the bulbous home crowd was jeering at my boys with a victor's bloodlust. All this contributed to my bad mood as my wife guiltily pointed towards what looked like an expensive sofa bed. As I reached towards the price tag I was given a surprise, the bizarrely named Grankulla was cheap! When I left IKEA the texts started rolling in, we had won – it was IKEAs thick walls , designed to keep in husband's screams and keep out footballing text messages, that had stopped the news from arriving. Moyes yet again fielded an unchanged team, this band of brothers, full of unselfish filial duty, has become a galvanized unit and succeeded against a Tottenham team rammed full of superfluous signings.
As Sky sports ridiculously told me when I got home, Everton went to the top of the League and Spurs went bottom. Such knee-jerk reportage annoys me, it is far too early to be talking of league positions, I preferred the days when league tables weren't even broadcast until 7 or 8 games in to the season. Having said that six points is a wonderful start, and the fact that Leon Osman scored again last night and was joined on the scoresheet by two defenders is a good sign. One has to wonder what will happen when AJ and Arteta start scoring, when Vaughan and Cahill return, and when we complete the additional transfers that Moyes clearly wants. Pipping Liverpool to 4th place was a wonderful achievement for Moyes and to do it again would feel like winning the lottery twice.
It is obvious that at Everton familiarity breeds success, and yesterday was evidence that although Jol boasts the more expensive furniture, no one can really tell from the performances.