Jurgen Klopp has all but ruled out taking over from Brendan Rodgers at Liverpool by revealing his intentions to take a six-month break from management following the end of his seven-year reign with Borussia Dortmund.
However, in news that won't please BVB fans, the German hasn't ruled out coaching Dortmund's fierce rivals Bayern Munich in the future…
READ MORE:
Read the latest Liverpool transfer gossip!
Five top replacements for Carlo Ancelotti at Real Madrid: Wenger set to be potential target
When asked if he could ever envisage himself coaching Bayern Munich, Klopp told German newspaper Bild, "Yeah, why can I not imagine? I am a football coach. I want to work for a while, but at the moment it is difficult."
Nonetheless, he also spoke about managing elsewhere in Europe, and said that, if needs be, he can learn the Spanish language. "I know almost every German dialect, so I can learn Spanish – if I have to …"
He did, however, reveal that he will be taking at least half a year's break before considering any offers to return to the dug-out.
Borussia Dortmund gave Klopp a tremendous send-off after he announced in mid-April that he would be leaving the at the end of the season. On his final game in charge on Saturday, a 3-2 victory over Werder Bremen, the 'Yellow Wall' at the Westfalenstadion unveiled a spectacular banner which read, 'Danke Jurgen' ('Thank you, Jurgen').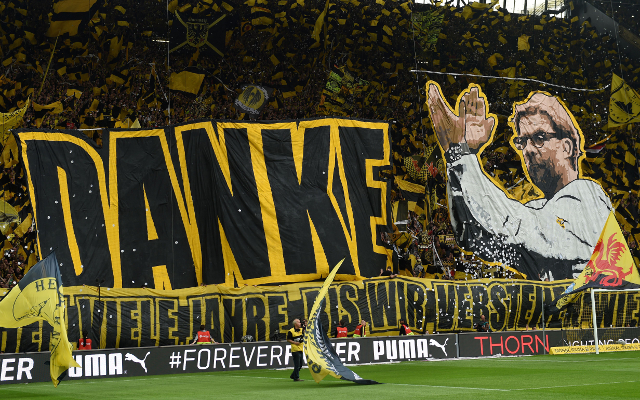 The 47-year-old has been linked with replacing under-fire Brendan Rodgers at Anfield in the summer [via Yahoo! Sport], and rumours intensified that the Reds boss could be sacked following the Merseyside club's humiliating 6-1 defeat to Stoke City on the final day of the Premier League campaign.