Arsene Wenger appears keen to spend hefty transfer war-chest and here are five additions who could be Emirates Stadium bound.
Check in to Transfer Window: Done Deal Alerts
Arsene Wenger has today talked up his side's pursuit of 'top-level' targets, insisting that Arsenal will look to bring in players before the new season starts.
"We have better financial resources than the years before and it is resources we have created ourselves. That is massively important to us," he said.
"For years we were out of the race for the top-level transfers but we are coming back now because we are in a better financial situation and also because of Financial Fair Play. That will give everybody a bit more even ground.
"We will see what we can do until the end of the transfer period and certainly before the new season starts. That's what we are working on at the moment.
"The fans, the players, everybody is reassured by big names. But what is important is that we don't need numbers, we need quality. We are working very hard and I'm confident we will be able to do it." (Fox Sports)
With this in mind here are five players Arsenal have been strongly linked with in recent weeks and who the Gunners could realistically sign this month.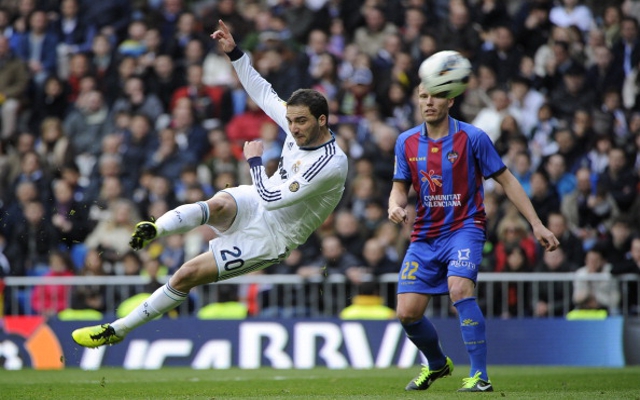 Gonzalo Higuain (Real Madrid)
Arsenal have at times been incredibly close to sealing a deal to sign the Real Madrid forward only for some spanner or other getting in the works. However ostensibly nothing has changed, the Argentine wanted to leave the Bernabeu in search of regular first team football and though Carlo Ancelotti has taken over from Jose Mourinho there is no guarantee that Higuain will be getting the first team guarantees he is demanding.
Indeed Ancelotti may well be likely to splash the cash on further forward purchases and has been actively pursuing Liverpool striker Luis Suarez.
However if Arsene Wenger truly wants to sign the 25 year old then he will need to meet the La Liga giants valuation, which in all likelihood is the only barrier to a deal being struck. Higuain has publicly stated his desire to leave and as such could find himself the subject of Real Madrid boo boys if he remains at the club and whats more will have to deal with them whilst warming the bench.
Higuain is a proven goal-scorer, 122 goals in seven seasons at Real Madrid, and Wenger simply needs to put his money where his mouth is and stump up the £25m or so needed to bring the forward to the Emirates Stadium.