Reds go under microscope for amazing winning streak.
A new infographic that has appeared on the Liverpool Reddit page that breaks down the club's amazing nine game winning streak.
Read More Liverpool FC News
Brendan Rodgers has now led his side to nine successive Premier League wins and with five games to go, Liverpool supporters are beginning to dream that a long awaited title is now in sight.
The Reds have banged in 32 goals in the past nine games and the stats highlight just how important Steve Gerrard has been to their cause.
Luis Suarez, Daniel Sturridge and Raheem Sterling all feature in both the goals and assists column, and the likes of Martin Skrtel and Jordan Henderson have weighed in with their fair share too.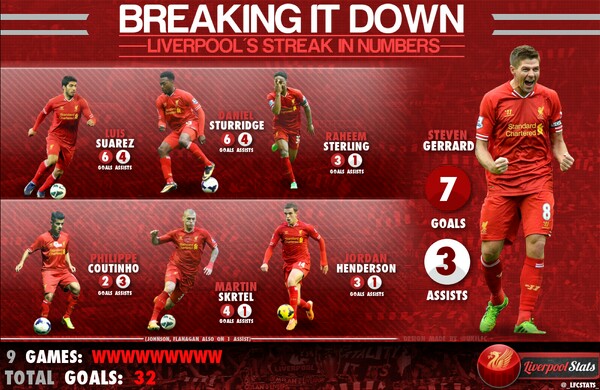 See who are the top 10 best Liverpool players of all time.
Watch the top 10 best Liverpool goals.