Chelsea team show a lack of respect for Anfield by leaving Liverpool cleaners with a dirty job on their hands.
Chelsea outclassed Liverpool on the pitch on Saturday afternoon, as Jose Mourinho's Blues recorded a 2-1 win at Anfield.
However, the London outfit showed a lack of class off the field by leaving their dressing room in a horrible state.
Chelsea physiotherapist Ivan Ortega Gonzalez shared the below photo via Instagram, accompanying the picture with the caption: "Job done! Back to London".
We know most of them are multimillionaires, but surely the Chelsea boys could have put the used tissue paper and empty bottles in the bin?
SEE ALSO:
Liverpool Vs Chelsea Celebrity Fan Battle: Justin Bieber Helps Blues Edge It.
(Image) Shocker! Is Arsenal's Arsene Wenger A Crossdresser?
Liverpool Vs Chelsea WAGs Photo Special: Steven Gerrard's Wife & Andre Schurrle's Girlfriend Feature In Explosively Hot Gallery.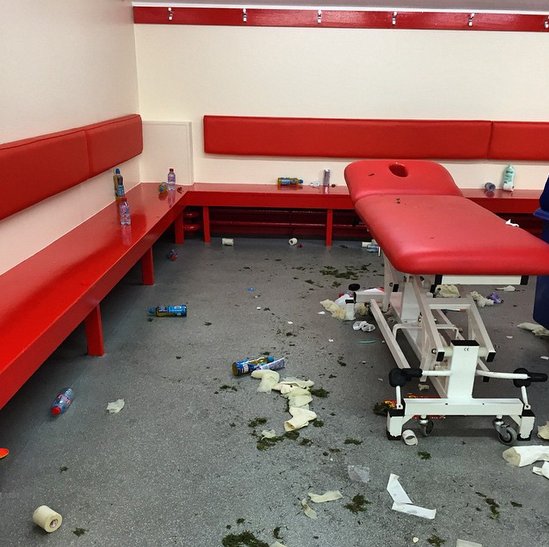 SEE MORE:
World's Top 50 Hottest Sportswomen.
Top 100 Sexiest Football WAGs In The World 2014.
Top 20 Premier League Blockers: Chelsea Stopper, Plus Ex Arsenal & Man United Defenders, Among Best Human Walls.