Horrible!
SEE ALSO:
(Images) LOL! Cristiano Ronaldo Statue Features Erect Penis.
Spurs Star Snubs Liverpool Vs Arsenal, Choosing Netflix Over Midtable Scrap.
Liverpool Vs Arsenal WAGs Photo Special: 60 Pictures Of Hot Women Including Hector Bellerin's Cute Girlfriend & Dejan Lovren's Stunning Wife.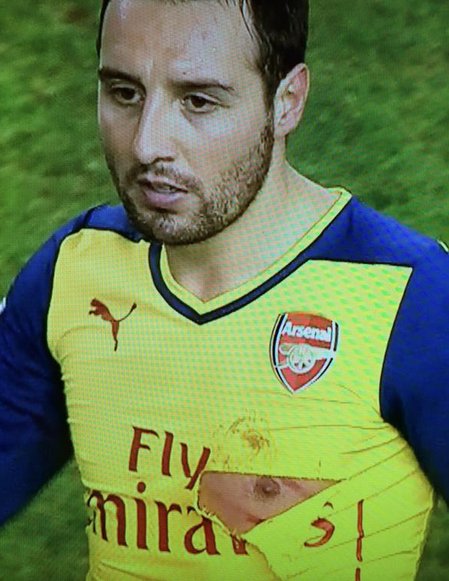 Liverpool striker Fabio Borini was sent off during his side's 2-2 draw with Arsenal on Sunday, picking up a second yellow card for an awfully high tackle on Santi Cazorla.
Gunners midfielder Cazorla was left with a ripped shirt and a nasty cut on his chest.
Had Borini's foot been at a marginally different angle, the Spain international could have lost a nipple!
Liverpool were 2-1 down when Borini got sent off, but they managed to equalise thanks to a late Martin Skrtel header.
So, it's official… Liverpool are better with 10 men than with Borini!