An alternative look at Chelsea's imminent transfer deal.
With news that Chelsea are closing in on the signing of Fiorentina winger Juan Cuadrado (reported in the BBC), it is worth pointing out that in Andre Schurrle the Blues are basically ditching a ready-made player who can do a very similar job.
SEE ALSO:
Chelsea's stunning XI with new £25m signing
Chelsea transfer news
Best young football players in the world!
According to the report, the Blues are about to fork out around £23.3m to sign the Colombian from Serie A – not a bad price for such an in-demand player who lit up the Italian top flight with his performances last season.
Even better, Schurrle could bring in between £25-30m if he is sold back to a Bundesliga club, most likely Wolfsburg – reports Sky Sports. From a business perspective, taking Financial Fair Play into account, this move makes complete sense: Chelsea get rid of an unwanted player, bring in a better one, and no money is wasted.
Still, it is a sad state of affairs if a manager widely regarded as one of the best in the world is constantly looking to the transfer market to solve his side's very minimal problems. Chelsea already have a superbly talented squad capable of bringing home a treble this season, with the Premier League title surely wrapped up if they beat Manchester City this weekend.
Schurrle may not have done enough to start regularly, but he is behind the excellent Willian, and he regularly for the German national team, too. He has impressed in his limited appearances for the club, showing a fine eye for goal – and the fact that his value has nearly doubled since he joined the team from Bayer Leverkusen last season speaks volumes.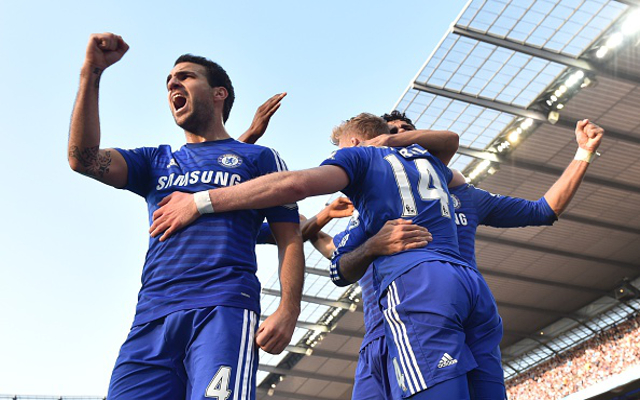 And yet, Mourinho is not satisfied. Not only that, despite his wealth of coaching experience he does not seem either bothered or able to coach the 24-year-old World Cup winner into doing more of what he wants him to do; it's true, Cuadrado will come with more work rate and end-to-end abilities than Schurrle, but is that really something so unteachable?
Can a manager as good as Mourinho and a player as good as Schurrle really not come together and work on this on the training pitch? The Germany international has only been at Stamford Bridge for 18 months and is already being shown the door. Mohamed Salah, barely at the club a year, faces the same fate as the manager opts to spend his way out of trouble instead.
In the past, even with all their funding from Roman Abramovich, Chelsea built a team around a strong core of players such as John Terry, Frank Lampard and Didier Drogba. None of these got off to an absolute flying start for the club but improved tremendously under Mourinho.
Now players move in and out at such frequency it begs the question if the 'Special One' really has it in him to build a team anymore. As a result, some big talents such as Juan Mata, Kevin de Bruyne and Romelu Lukaku have already been ditched in favour of other new signings – none of whom have exactly done the business.
Salah arrived just as Mata left and is now likely to leave himself. Lukaku was replaced by a 36-year-old Drogba, who could retire in the summer and will need another new signing to replace him. Again.
Cuadrado could be a fine addition to the Premier League, but if he doesn't hit the ground running who knows how long he'll last?
SEE ALSO: Stunning Gallery! 50 Really Hot Women In Football Shirts: Hot Babes In Liverpool, Arsenal, Chelsea & Man United Kit.