Controversial loan move finally looks set to go ahead.
Chelsea legend and Manchester City maestro Frank Lampard took to social media today to show fans how pleased he was to have finally met up with his New York City FC team-mates, including former Barcelona star David Villa.
READ MORE:
'I Have To Be More Consistent' Admits £32m Man City Star
Man City Consider Diego Simeone As Manuel Pellegrini Replacement
Yaya Toure: Man City Must Not Drop Another Point In Premier League Title Chase
NYCFC fans can at last stop chanting 'Where's Frank Lampard?'…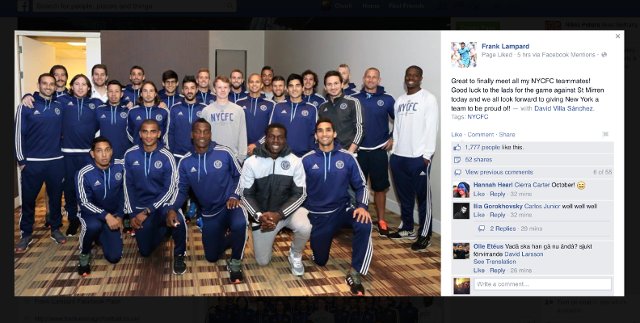 Lampard's move to the MLS outfit has been a contentious one – the Blues hero left the west London club with his legendary status intact as the veteran midfielder was seemingly on his way to the US.
However, controversy ensued when the parent club of NYCFC – which happened to be none other than the Blues' title-rivals Manchester City – confirmed in August that a six-month loan deal had been agreed with the 36-year-old.
Even more contentious has been Lampard extending his loan deal for the entire 2014/15 season with the Citizens – and a contract with the MLS outfit was only signed last month – contrary to reports that the deal was finalised in the summer.
Nonetheless, the retired England international's move is confirmed and he will compete against compatriot Steven Gerrard, as well as former Barcelona star David Villa and Brazil legend Kaka next season, as Major League Soccer continues to add to its list of football legends.