A pretty damning statistic for van Gaal's style of play…
Louis van Gaal has admitted that Manchester United need to cut down their amount of back-passes to David De Gea as concerns among the club's fan-base continue to mount over their poor style of play.
SEE MORE:
Manchester United SNUB Permanent Signing Of £39m Radamel Falcao
Everton Midfielder Poised For Manchester United Move
Ranking The Ten Ex-Premier League Players We Miss Most, With Former Chelsea, Liverpool & Man United Stars
But perhaps this issue is best summed up in one stat that reveals the true scale of United's unadventurous style.
Published by Sky Sports, it's been shown that Manchester United are actually the leading Premier League club this season on passes back to their goalkeeper.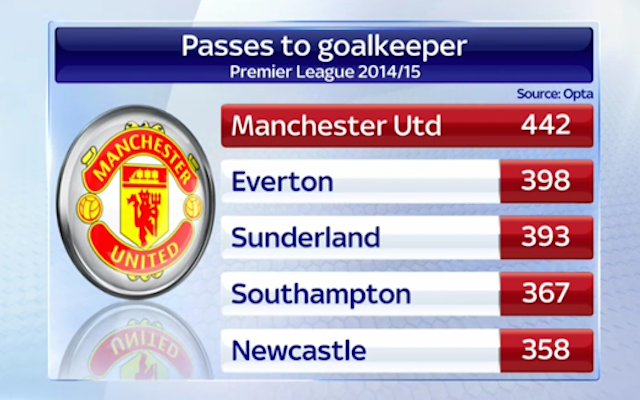 Indeed, the club are almost 50 higher than their nearest rival in Everton.
Perhaps it was for reasons such as this supporters were chanting "Attack, Attack" at the weekend against Sunderland, with the loudest said to be coming when a United corner managed to be worked all the way back to David De Gea.
One stat hardly proves anything, as you can see Southampton too have had a swashbuckling style this season going forward that has propelled them into contention for the Champions League places.
However, given the rest of the top five consist of lower half strugglers, it's not the most impressive stat for Louis van Gaal's side to be connected with.