Michael Owen admits he made a mistake parking his Bentley under a tree
The former England striker's car was crushed as a tree fell on it during the night
Owen tweeted pictures of the damage but seemed to take it well
Michael Owen got an unpleasant surprise this morning as he tweeted pictures of his Bentley crushed by a tree that fell on it during the night.
The former England international admits he thought it might've been a smart idea to keep his car sheltered from the snow by parking it there, only for it to spectacularly backfire.
After a top level playing career in the Premier League and regular work as a pundit now, Owen won't be strapped for cash if he decides to buy a new car.
Not ideal at 5:30am when you've got a train to catch! Thought I was clever sheltering my car from the snow! ?? pic.twitter.com/9Oqz8UxiPR

— michael owen (@themichaelowen) December 11, 2017
And despite often being the butt of the joke on social media for some inane tweets to go along with what many deem drab punditry, there did largely seem to be sympathy for the former Manchester United and Liverpool man.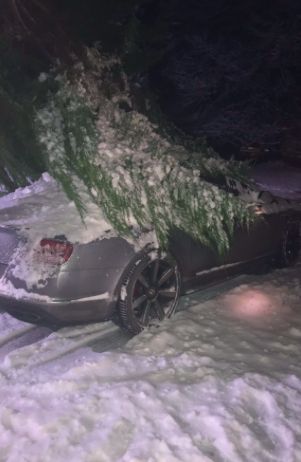 Poor Michael Owen, even his car is injured

— Mark Ellison (@What_Mark_Said) December 11, 2017
Did it do any damage? Doesn't look too bad

— Ian Coe (@iancoe) December 11, 2017
Woops !

— rebecca holland (@kaiserblueeyes) December 11, 2017
Poor Michael! That's terrible even his car is injured. Was the garage full of your other cars? Maybe you can one of those?

— Retail Genius (@KameyoK) December 11, 2017