Manchester United are reportedly interested in signing Napoli striker Gonzalo Higuain in a £42 million deal this summer, with Louis van Gaal unsurprisingly keen to improve his options up front.
SEE ALSO:
Find out the world's richest footballers in 2015!
Rodriguez Manchester United: Five facts about free-scoring Wolfsburg left-back linked with Reds transfer
Manchester United rumours
Earlier this week, United's official website confirmed the exit of on-loan striker Radamel Falcao, who will return to parent club AS Monaco after a disappointing season at Old Trafford, during which he only scored four goals in all competitions.
Clearly, a replacement signing in attack makes sense as a priority for van Gaal, who may also have cause for concern after Robin van Persie only managed 10 goals in 29 games in all competitions.
Higuain, meanwhile, managed a far more impressive 26 goals this season, embellishing his reputation as one of the most prolific forwards in world football. Since joining former club Real Madrid in the 2006/07 season, the Argentine has hit double figures in seven out of his nine seasons in Europe including 50 in 96 appearances for current side Napoli, a ratio of more than one every two games.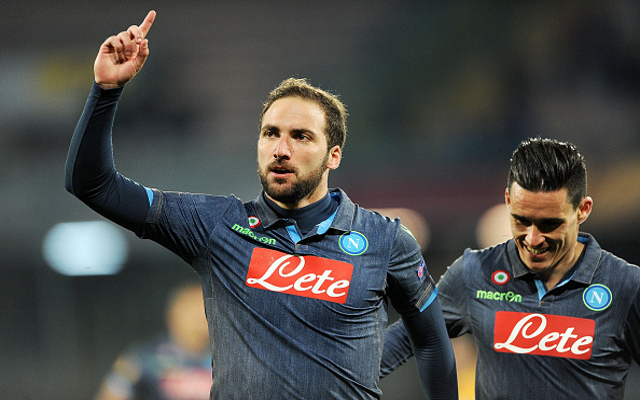 While Higuain's credentials stand alone as impressive, there's also a strong case for signing him to improve both the morale and the potential of last summer's big-money signing Angel Di Maria.
The pair know each other well, having both played together previously at Real Madrid and for the Argentina national team.
Why Cristiano Ronaldo should never have left Manchester United for Real Madrid
While this on its own is no guarantee of success, there have been reports this season that one reason Di Maria is struggling to settle in England is that he has not yet mastered the language (according to the Daily Mirror). It can be easy to discount personal issues and life of the pitch as a reason for a player to struggle, but it must affect footballers as much as anyone in any profession, so bringing in a familiar face could be a big boost for the 27-year-old next season.
Beyond that, a creative player like Di Maria would undoubtedly benefit from a prolific striker to aim at up front.
Never much of a goalscorer himself, the former Benfica man would be truly able to shine if there were a better calibre of player to finish off moves from his passes and crosses. At the Bernabeu, he had the likes of Cristiano Ronaldo and Karim Benzema to aim at, while at Old Trafford he has so far struggled to make the same impact playing with misfiring players like Falcao and van Persie.
In truth, Di Maria has not been given enough credit for his assist-contribution this season. Despite the failings of both the Colombian and the Dutchman, the Champions League winner has still contributed 10 assists in the top flight.
United will not want to give up on a player of Di Maria's class so soon, so Higuain could really give them a double boost this summer if the Metro's reports of their interest prove to be true.