Roy Hodgson has taken a lot of stick for his team selections so far at Euro 2016, but, for me, he's come very close to getting it right. Not close enough, mind.
OK, so his decision to rotate against Slovakia backfired – although not too disastrously in hindsight, because England's punishment for failing to top Group B was ultimately a last-16 game with Iceland, rather than one against fellow-minnows Northern Ireland. But the team he picked to face Russia and Wales looked pretty perfect on paper. However, on paper, I saw it like this.
How England should have lined up against Russia and Wales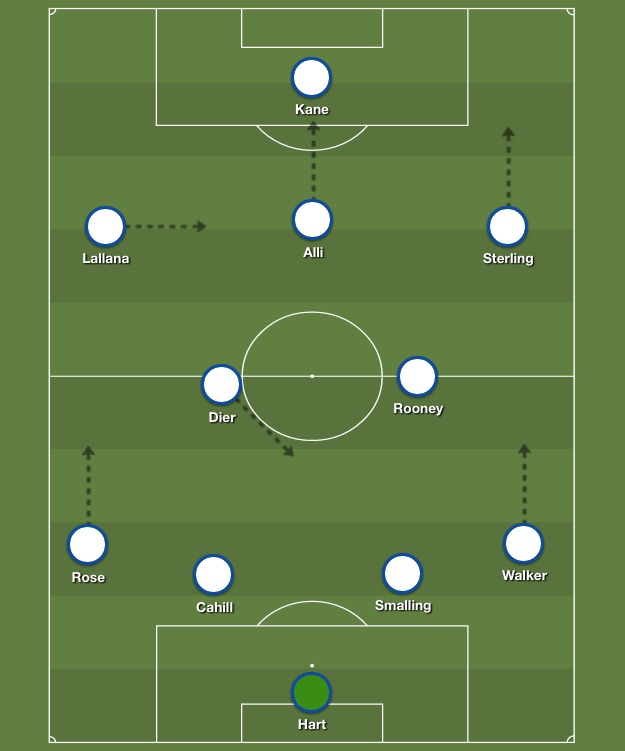 Follow @robsummerscales on Twitter.
With five Spurs players in England's starting XI, you could have been forgiven for expecting Roy's Boys to line up line Spurs.
You would have at least expected that Hodgson would make an effort to utilise the strong relationship between Dele Alli and Harry Kane – one that had seen the pair link-up to devastating effect in the Premier League.
But no. Rather than playing Alli as a no.10 off his Tottenham teammate, Roy deployed England's chief wonderkid in a cautious three-man midfield unit.
As well as lessening Alli's creative influence on the game and making it harder for him to provide England's attack with an additional goalscoring threat, this tactical decision left Kane isolated.
How England did line up against Russia and Wales
Kane's lack of support saw him hauled off at half time in the Wales game, when he and Raheem Sterling were replaced by Daniel Sturridge and Jamie Vardy.
Both subs scored, but Vardy did little else to impress. The Leicester star then failed to shine in 90 minutes against Slovakia either.
Of course Vardy deserves to be in the squad, but his role should be clear. Vardy is not the player you call upon to break down a deep defence. He thrives on space – something he had in abundance for Leicester this season, because Claudio Ranieri's men play on the break and because Leicester's opponents were not afraid to have a go at them.
Conversely, all three of England's group opponents were very reluctant to attack. Iceland will be too. Therefore, Hodgson should keep Vardy on the bench, saving him for when his side are winning, allowing him to come on and wrap up the victory on the break.
Similarly, Vardy may even be a useful starter in later rounds when England are up against a team confident enough to push up against them.
But he should not be in the XI against Iceland. Sturridge, on the other hand, should be. The Liverpool striker, when fit, is as good as anyone at this year's finals. And Sturridge, much more so than Vardy, has the potential to make the most of limited space. Also, as a left-footer playing on the right, he offers a threat cutting in from deeper areas.
Sterling hasn't done enough to deserve another start. Anyway, like with Vardy, his main asset – pace – would be fairly pointless when confronted with a back five who refuse to venture beyond the edge of their own penalty area.
I hope Lallana is given the chance to play on the left. The former Southampton star has the most incredible feet and he possesses the creativity and serene confidence in possession to make vital chances.
How England should line up against Iceland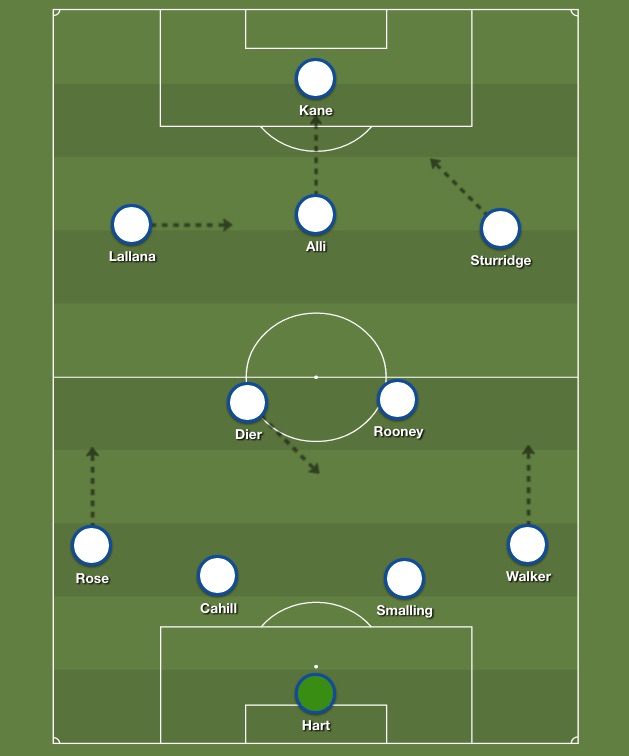 Of course, there were positives to take from the games against Russia and Wales, despite my frustration surrounding the system.
Wayne Rooney – as expected – was fabulous in midfield, as was Eric Dier.
Of course, Rooney is a little lucky to get picked. But he was always going to play. He must step up to keep his place now. And he will.

— Robert Summerscales (@robsummerscales) June 11, 2016
Meanwhile, the full-backs – Kyle Walker and Danny Rose – were impressive at both ends of the pitch.
As my diagrams suggest, the required changes are minimal, but they would make a huge difference.
If England line up with Lallana and Alli behind Kane, with Sturridge attacking from the right and Dier and Rooney pulling the strings in the middle, I really can't see Iceland's fairytale having a happy ending on Monday night in Nice.