With a five-year deal in hand, new Chelsea striker Michy Batshuayi intends to make himself a big part of the club's success over the course of his stay at Stamford Bridge. Expectations are already high, but Batshuayi believes he can do his best Didier Drogba impression and take the Premier League by storm.
In an interview following his unveiling as Chelsea's first marquee signing of the summer [per Goal], Batshuayi said he hopes to emulate the legendary Ivory Coast striker as he chases silverware with his new club.
"Drogba and I are different people," Batshuayi said.
"But I totally respect the career Didier had at Chelsea and I am going to do my best (to succeed like him).
"I want to enjoy myself and give my maximum to help the team win matches."
Drogba helped lead Chelsea to four Premier League titles and a Champions League title during a near-decade at Stamford Bridge. During that time he won two Golden Boot awards and countless individual accolades.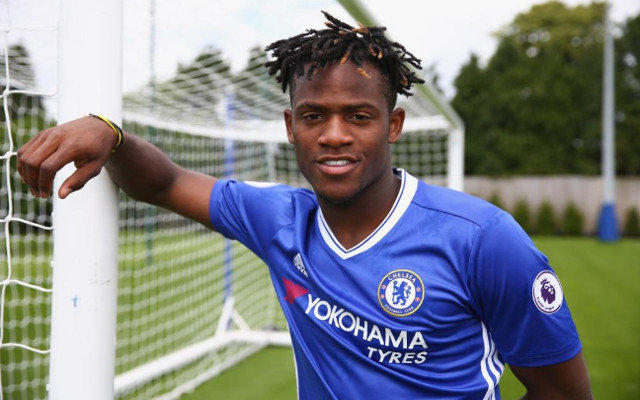 Batshuayi also mentioned Ronaldo the Brazilian as one of his role models growing up and has modeled his game after the Real Madrid legend.
"The Brazilian Ronaldo was my idol when I grew up," Batshuayi added. "He was a phenomenal player."
The Marseille striker scored 17 goals this past season – tied for fourth in Ligue 1. He also recorded nine assists – also tied for fourth in the French league. He also set a new career high for appearances in one campaign with 50 across all competitions in Ligue 1, Europa League, Coupe de France and Coupe de la Ligue.
On the international level, Batshuayi has been capped six times for Belgium and has scored three times – including the second of four goals the team scored in a 4-0 win over Hungary in the Euro 2016 knockout round.
Follow @jtmlovessports on Twitter
SEE MORE:
Antonio Conte secures first Chelsea summer signing as rebuild begins
Chelsea ace involved in dressing room altercation with Belgium coach
Antonio Conte announces Chelsea start date as new boss speaks bullishly after Italy role ends