Jack Wilshere's once-promising and endlessly exciting career may be taking another catastrophic nosedive as the former England starlet has been linked with a move to Steve Bruce's Championship side Aston Villa.
With Bruce already well underway in creating a Premier League boyband reunion headed by John Terry, claims by The Mirror have surfaced that Wilshere is Bruce's next target to join the likes of Chris Samba and Glenn Whelan at Aston Villa's retirement home football club.
At 25, Wilshere has struggled to nail down first-team football in what should have been the most formative years of his career. The Arsenal midfielder returned from a loan stint with Bournemouth this summer which was heavily marred by niggling injuries and a lack of consistent first-team football.
Wilshere featured in Arsenal's U23 fixture against Derby on Monday night but, with just a year left on his contract, The Mirror reports that Arsenal have told Wilshere that if the right offer comes in he will be allowed to leave.
The transfer talk surrounding Wilshere has very much mirrored the England midfielder's painful demise. In February, it was reported by the Manchester Evening News that Pep Guardiola's Manchester City were considering making a move for the out-of-favour Wilshere.
However, nothing transpired and the rumours surrounding Wilshere's next destination have started to plummet, in terms of the quality of teams interested in the midfielder.
Italian club Sampdoria were rumoured to be showing interest in Wilshere in July, with the Mail Online reporting that a £6m bid with £1.5m in add-ons would be placed by the Italian club. The speculation then moved to Rafa Benitez's Newcastle United, who were rumoured to chasing Wilshere at the start of the week, according to another report by The Mirror.
Now news of Newcastle's interest has been replaced by links to Aston Villa over the last 24 hours.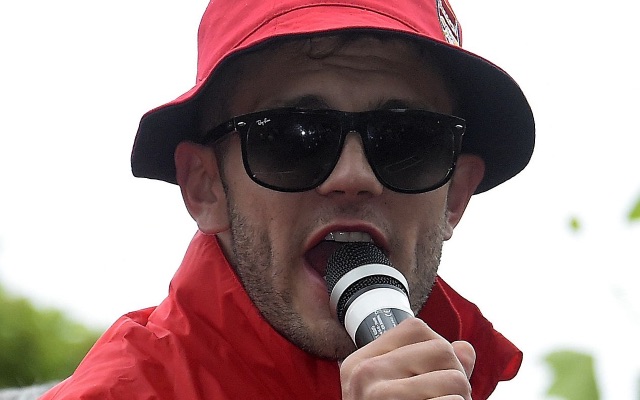 "What do we think of my career progression?… What do we think of sh*t?"
Jack Wilshere's transfer talk timeline
February – Manchester City
July – Sampdoria
Earlier this week – Newcastle United
Now – Aston Villa
With the ongoing nosedive in standard of the clubs interested in Wilshere, we wouldn't be surprised to see him linked to Billericay Town next week.
Perhaps Billericay manager/owner/motivational speaker/karaoke star and everything in-between Glenn Tamplin could find a happy home for Wilshere alongside Big Brother star Jamie O'Hara, who himself has fallen spectacularly in footballing terms – from Tottenham's starting XI, to the Isthmian League, via Wolves, Blackpool, Fulham and Gillingham.
Obviously we're only joking (sort of).
Jokes aside, it really is a sad state of affairs to see Wilshere being linked with a Championship club. The midfielder seemingly had the world at his fragile glass ankles feet a few years ago.
In 2015, Wilshere was named Man Of The Match in six out of seven games for Roy Hodgson's England and in 2011 was compared to Paul Scholes and Paul Gascoigne by The Guardian, with journalist Paul Hayward claiming he was "the midfielder we have been waiting for".
Sadly, that wait continues.