A Jesse Lingard tweet got him into a spot of trouble earlier today
The Manchester United star has now taken to Twitter to apologise
Lingard claims a member of his media team posted just after tributes to the Munich air disaster victims
Jesse Lingard has apologised after fans slammed the Manchester United winger for tweeting about FIFA moments after the Munich air disaster tributes earlier today.
The England international angered some supporters after he was seen replying to a tweet about playing FIFA with Marcus Rashford, though he has since claimed this was sent by a member of his media team as he was at the ceremony.
Today marked 60 years since United players were killed in a plane crash, with the famous team dubbed the 'Busby Babes' remembered as one of the finest sides ever seen in English football.
The story is a tragic but remarkable one as manager Sir Matt Busby later rebuilt the club and won the European Cup just ten years later with another fine young team.
However, today was supposed to mark a day of remembrance for one of the greatest tragedies in footballing history, and fans were not at all happy that Lingard appeared to be taking the situation lightly.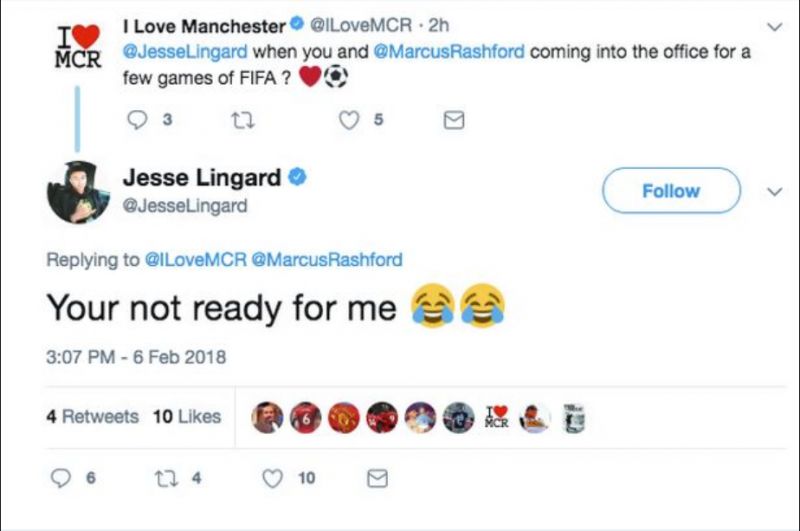 The player himself insists he was not tweeting just after the tributes that ended, but apologised nevertheless and deleted the earlier tweet.
He tweeted a statement, which read: 'A member of my media team inadvertently replied to a tweet this afternoon on my twitter profile during the Munich memorial service at Old Trafford.
'I was unaware as I was at the service at the time, and don't condone the post or the timing in anyway.
— Jesse Lingard (@JesseLingard) February 6, 2018
'The post has now been deleted, and I'd like to apologise for any upset caused, this is totally unacceptable and does not reflect my personality or views on this emotional day.'
Tweets from United fans earlier slammed Lingard for the timing of the post, and it remains to be seen if the 25-year-old can truly undo the damage done to his reputation today.
so its 5 minutes since the 15:04 moment remembering the busby babes and you are tweeting about FIFA , ffs mate

— Gripper (@Gripper2502) February 6, 2018
No respect what so ever disgraceful. You have no clue what this means to the fans and the club.

— Paul lavery (@laves1975) February 6, 2018
3 minutes after 3:04 and you are tweeting about Fifa. Showing your true colours here mate

— barney (@BarneyHarwod) February 6, 2018