Lessons van Gaal can take from Gunners' 2-0 win at Man City.
Although it is often a criticism aimed at Arsene Wenger himself, if there's something Louis van Gaal can learn at the moment it is to mirror the approach by the Arsenal manager in his side's hugely impressive 2-0 win at Manchester City last weekend.
SEE ALSO:
7 Bizarre Facts You Didn't Know About Adrian Chiles
Brighton Vs Arsenal: Live Streaming & FA Cup Match Preview
Manchester United transfer news
Although the Gunners have a woeful record in the big games and a change of approach was certainly a long time coming, Wenger admitted later that he showed an open-mindedness to listen to his players as they requested that the team curb its usual attack-minded instincts.
Committed to playing 'the right way', Arsenal have so often shown tactical naivity against the top sides, continuing to play in the same way as superior opponents picked them apart. Conceding 12 goals in two trips to Stamford Bridge and the Etihad Stadium last season have perhaps served as a lesson.
"At some stage you cannot go against the feelings of the team because it's detrimental to the result," Wenger was quoted by the Mirror.
"The team sometimes needs to be reassured and reassurance comes first from feeling solid and strong and then you can express your talent and our confidence in the big games had been damaged by these big results.
"Your tactics have to be aligned as well with the feeling of the team and with the confidence level of the team."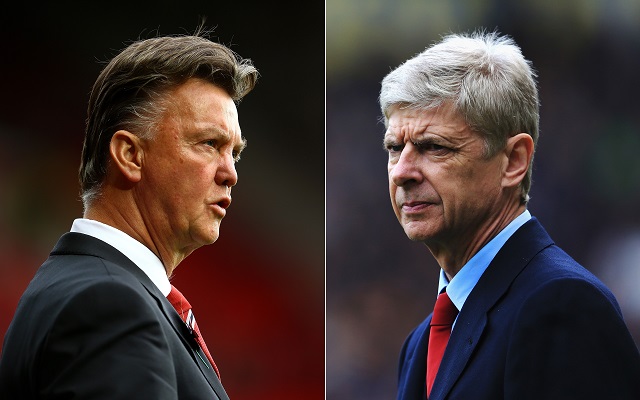 In contrast, van Gaal's message since taking over at Manchester United has very clearly been "my way or the highway". The controversial Dutchman has earned a reputation for being stubborn and arrogant about his methods. They have, of course, brought him plenty of success in different leagues around Europe, but sometimes there is something to be said for listening to your players, as Wenger did. Especially as it has been plainly clear for some time that many of United's current players are not comfortable playing three at the back.
Defending has been a weak point for the Red Devils this season, with experienced players such as Jonny Evans, Chris Smalling and Phil Jones looking somewhat out of sorts in their new roles. The best results for United have come when the team briefly switched back to a four-man defence, playing a diamond midfield. As Wenger said, it can be detrimental to go against the feelings of the players, so why change a system when it's brought about a good winning run?
Van Gaal may feel it is worth sacrificing results for the time being as he looks to build this philosophy into the club; it may be a case of short-term loss for long-term gain, but will he get that time? Surely not if the club – a multi million pound business – misses out on a Champions League place again.
But even putting money aside, United needs to become a happy place again. The retirement of Sir Alex Ferguson has rocked the players and the fans, and a horror-season under David Moyes last year only made it worse. Van Gaal needs to restore a sense of joy to United's football and bring back that momentum that was starting to build. Tactics are one thing, but as Wenger said, they have to be aligned with the feeling of the team.